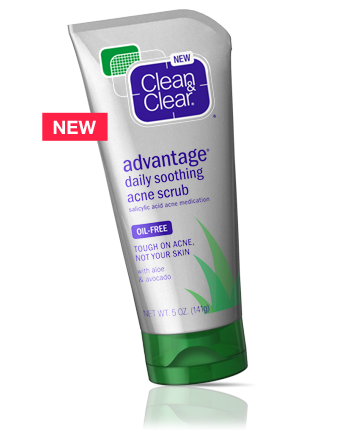 Hey guys! So, today I have a special "magic" scrub review that works wonders to eliminate acne! I mean who wants acne everywhere on their face? I know I don't…. Well, this wonderful product is called Clean & Clear daily soothing acne scrub.  This product is absolutely AMAZING and will make your acne (yuck) disappear in just a few days.
A reason to love this product is first because it contains Salicylic Acid. If you've got acne, Salicylic Acid can be a life saver (or as I would call it, my bff <3). It's almost like and acne "medicine" to help clear skin of acne and prevent serious breakouts. Another fantabulous reason to love this product is Aloe & Avocado. The soothing formula along with Aloe and Avocado equals a product that is gentle on skin.
Steps to Success:                                                                                                                                                  
1. Start with clean hands. (make sure that your hands are clean or else you can spread germs to your face, making it worse) use those clean hands to splash water on your face.
2. Apply the scrub to your fingertips. Gently massage the scrub all over your face, avoiding the eye area. (you don't want puffy, red eyes, lol)
3. Rinse thoroughly. Pat your fabulous, beautiful face with a dry towel.
And… for the rest of my review, make sure to watch my video